Forecasting the 2023

–2024 flu season
September is here again, bringing fall with it—and over the next few months, the beginning of flu season 2023-2024.
The start of both the flu and the fall seasons have been linked in the Northern Hemisphere for many years. However, as fall approached last year, media attention fell not only on influenza, but also COVID-19 and respiratory syncytial virus (RSV). Public health officials expressed concern over a potential "tripledemic" involving flu, COVID and RSV in the autumn and winter months of 2022, as cases of each virus caused thousands of hospitalizations across the country.
Now that fall has arrived, preparing for the 2023–2024 flu season likely means we can anticipate other respiratory viruses affecting us again. So what predictions can we make for this season for the flu and these other viruses?
Predicting flu season 2023–2024 trends: Is it a repeat of last year?
Looking back at viral trends this time last year may help us better understand the current flu season trends.
Protective measures taken to ward off COVID-19 starting in 2020 seemed to have a secondary effect: Used to help slow the spread of COVID, these measures—such as the use of masks and social distancing—appeared to slow the spread of influenza, too. Circulation of RSV also was low.
Likewise, the rollback of COVID mitigation measures appears to have affected the flu season—especially in 2022, when flu cases rose sharply early in the season. Usually, a rise in flu cases begins in October, with a peak in February. Last year, the flu season began earlier than in past years, with cases rising quickly and reaching a peak in mid-November.
This rise of flu-related illnesses was accompanied by high levels of COVID and RSV; cases of RSV were particularly high in children. Hospitals became overwhelmed by cases of respiratory illnesses in the closing months of 2022.
Learnings from the Southern Hemisphere flu season in 2023
Because the Southern Hemisphere has a flu season that runs from April to September, flu trends there are used to anticipate potential flu trends in the upcoming flu season in the Northern Hemisphere.
In a June review of Southern Hemisphere flu activity data from the World Health Organization (WHO), the Centers for Disease Control and Prevention (CDC) noted that activity varied for each country. Some countries, such as Argentina and Australia, were experiencing typical levels of activity; others, including South Africa and Mexico, were recording high flu activity for that time of year. Chile also reported an early start to its flu season, similar to last year.
In terms of flu strains, the CDC report noted that some Central and South American countries had influenza A(H1N1) activity that was notably intense or occurred early in the season; other countries had more typical flu season timing, with influenza A(H3N2), influenza A(H1N1) and influenza B/Victoria strains circulating.
Flu viruses that circulate in the Southern Hemisphere may differ from those that circulate in the Northern Hemisphere, so Southern Hemisphere data won't necessarily be an exact predictor of trends here. Also, immunity in Northern Hemisphere regions may be different from those in the Southern Hemisphere. Nevertheless, Southern Hemisphere flu season information can help us prepare for what may occur in our upcoming flu season.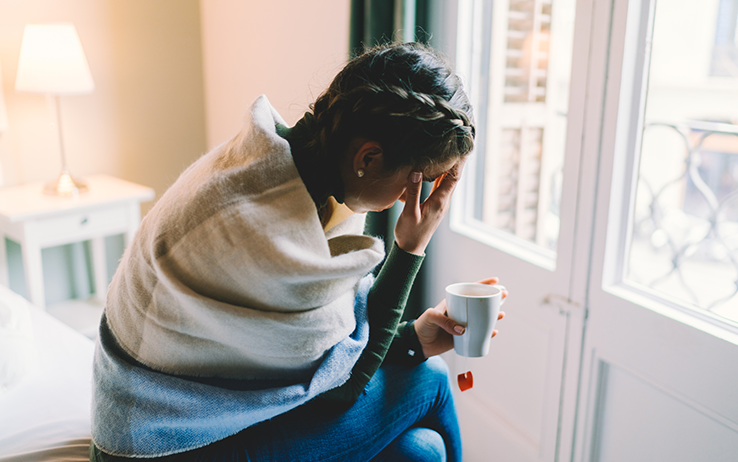 Current status of the 2023-2024 flu season in the United States
So where do we stand in the current season of flu and other respiratory viruses so far?
As of October 6, weekly surveillance data from the CDC shows that flu cases in the United States are low. At present, 84.2% of lab specimens shown to be positive for influenza are classified as Influenza A, with 95.2% of those specimens classed as Influenza A (H1N1)pdm09. The H1N1 virus that caused a pandemic in 2009 began in pigs; it is now a regularly occurring human flu virus that has circulated seasonally since that time.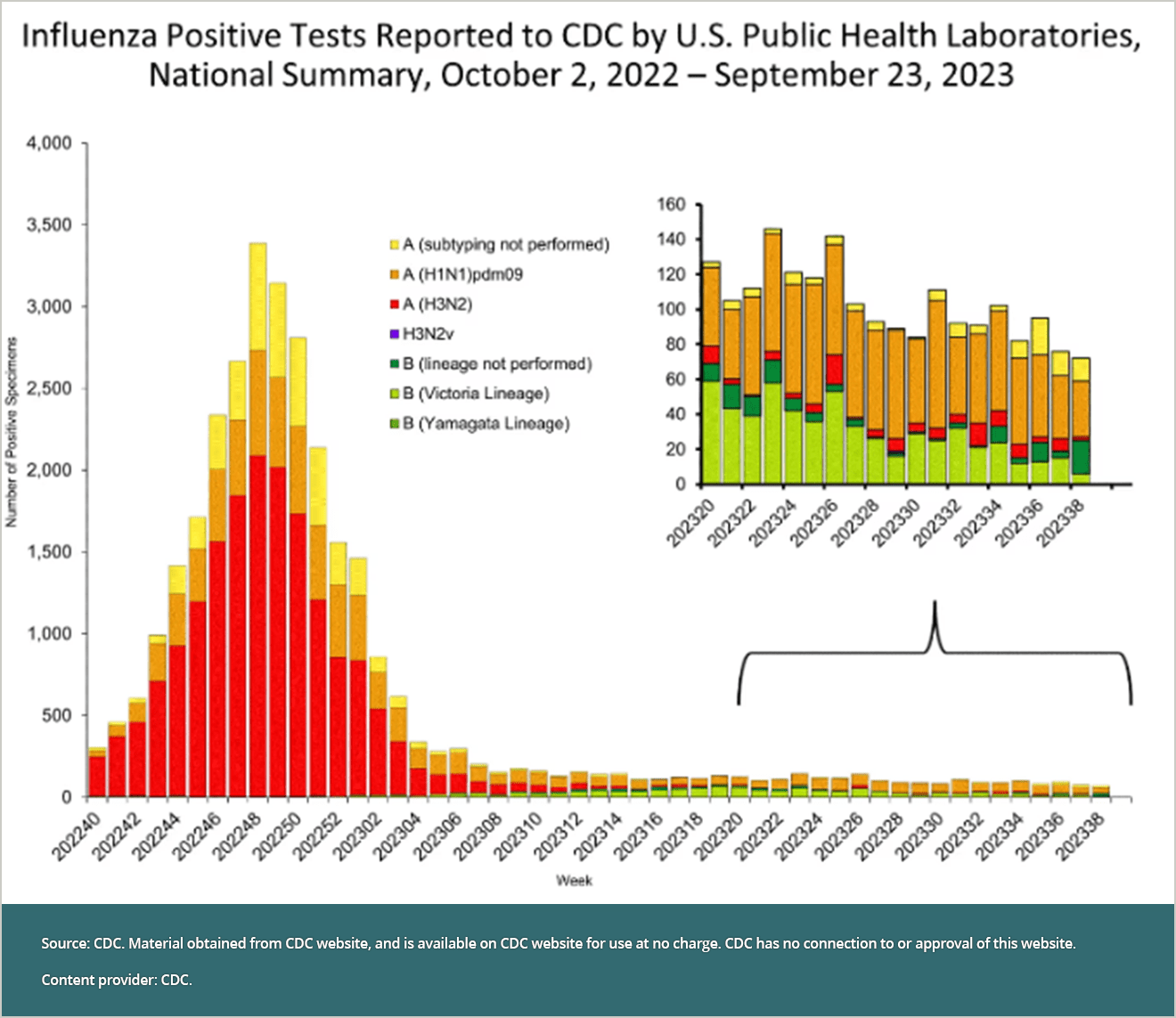 To put this information in context and better understand how this flu season is comparing to last year's, we can look at how many people are making trips to outpatient healthcare providers for influenza-like illnesses (ILI). ILI describes respiratory illness that includes fever plus a cough or sore throat.
At this point in the season (Week 39 of 2023), the national percentage of patient visits for influenza-like illness (ILI) was reported as 2.1%. For comparison, at the same time last year (Week 39 of 2022), patient visits due to ILI was reported as 2.4%. The national baseline of ILI-related patient visits was 2.5%.
So flu activity is definitely rising and is causing people to visit a healthcare provider, but as of Week 39, it doesn't appear to be following the unusual trends we saw last year. However, the season is still fairly young, so the data that is available to us now may not reflect what happens through the rest of the season. In Week 40 of 2022, the percentage of patient visits due to ILI rose to 2.6%, above the national baseline.
In terms of other respiratory viruses, a rise in COVID-related cases and hospitalizations were recorded last summer. As of late August, a few COVID variants had emerged; one of these strains, EG.5, appeared to be causing the majority of new infections among all variants.
EG.5 is a subvariant that is closely related to the Omicron XBB 1.1.5 subvariant that has been in circulation. XBB 1.1.5 is targeted by the new COVID vaccines for 2023-2024, and theoretically should work well against the EG.5 subvariant. Current COVID symptoms appear to be similar to those reported in the last year, including cough, headache, muscle aches, runny nose and fatigue.
In 2023, we have seen some encouraging news about new tools we have to help protect people against RSV.
The first RSV vaccines were approved by the Food and Drug Administration (FDA) this year, including two vaccines for adults aged 60 years and older and a new RSV vaccine for pregnant people in August. This latter vaccine should enable pregnant people to transfer antibodies against RSV to their infants. Also, in July the FDA approved an injectable RSV treatment for use in newborns and infants, who are particularly vulnerable to severe infections caused by RSV. These vaccines and treatment will hopefully reduce the chances that hospitals see the high numbers of cases that were recorded last year.
Vaccination rates may affect the season in 2023
The good news is that our current flu vaccines are designed to protect against four types of influenza, including Influenza A (H1N1)pdm09 strains.
Unfortunately, vaccine hesitation and vaccine fatigue are still in play and may affect the numbers of people who opt for flu, COVID and RSV vaccines this season.
In a survey published by the National Foundation for Infectious Diseases (NFID) in October 2022, only 49% of all adults surveyed said they planned on getting a flu shot that season; current estimates indicate that 49% of the overall US population, aged 6 months or older, received their flu vaccine. This number is about 2% lower compared to the previous flu season.
In results from the latest NFID survey, 65% of adults said they thought that flu vaccines were the best way to prevent flu-related hospitalization and deaths. However, 43% said they either did not plan to get a flu vaccination this season—or that they were unsure if they would do so.
Speaking in late September at a news conference held by the NFID, Mandy K. Cohen, MD, MPH, Centers for Disease Control and Prevention (CDC) Director, noted that in the 2022-2023 flu season, 174 children died as a result of the flu. CDC reports indicate that this is the third largest number of pediatric deaths related to the flu since reporting began in the 2004-2005 flu season. According to Dr. Cohen, 80% of children who died last year due to the flu were not fully vaccinated for influenza.
Dr. Cohen also presented information regarding the effectiveness of flu vaccines in preventing flu complications. "Last season, vaccines prevented more than 66,000 flu hospitalizations–so 66,000 people did not go to the hospital because of flu vaccines," she said. "Now on the other side of the coin, what we saw last year was actually less people getting the recommended flu vaccine than they were pre-pandemic."
Nevertheless, vaccines remain an important tool to protect our health. The best way to protect yourself against the flu is to get a flu shot. Even if this flu season remains relatively mild, more people can be protected against the flu if they get their flu vaccination this season. Make sure you take steps to get yours by the end of October. If you're unable to get vaccinated by then, getting a flu shot can still provide protection. And if you have already gotten the flu but not had a flu vaccine, getting vaccinated can provide protection against flu strains you didn't have when you were sick.